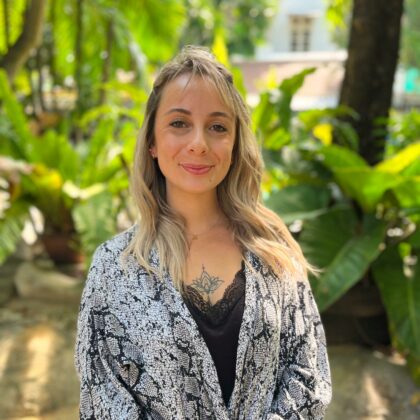 Mélodie Rochery
French-speaking teacher
First, I obtained a degree in developmental psychology specializing in education and disability, and then went on to deepen my knowledge with a master's degree in school teaching. For several months, I traveled around Asia to learn about different education systems. By working with teams of teachers in Nepal and India, I have been able to set up projects and teach. I also completed a yoga teacher training program in India. These experiences have made me very open-minded and adaptable to learning, culture and the needs of each individual. It was during these trips that I realized that I wanted to work abroad. 
I taught for three wonderful years at La Petite Ecole Bangkok, and I'm delighted to be joining La Petite Ecole Ho Chi Minh for this new school year. 
I'm passionate about traveling, nature, dance, yoga and sharing time with children, where you learn as much as you can give them. 
I'm looking forward to accompanying the children on a daily basis in the high-quality, caring environment that is offered by La Petite Ecole.