At La Petite Ecole, the French national curriculum is taught in French and English by two native teachers for children in preschool (aged 3 years) up to children in the final year of primary school – Cycle 3 (CM2, aged 11 years). In order to ensure high-quality education, the teaching team receives training throughout the year, internally, as well as through their partnership with the Agency for French Education Abroad (AEFE). The school welcomes families from all walks of life. It is open to its host country, its language and its culture.
La Petite Ecole follows the French national curriculum and is structured around four key skill areas :
PRESCHOOL
01
Mobilising language in all its forms
02
Acting, expressing and understanding through physical and artistic activities
03
Gaining basic numeracy skills
PRIMARY SCHOOL
01
Language - to think and communicate
02
Educating the person and the citizen
03
Learning methods and tools
04
Portraying the world and human activity
A unique curriculum taught in two languages.
Two teachers take charge of the class: a French-speaking teacher and an English-speaking teacher. Both are graduates and natives of France and of an English-speaking country respectively. They work hand in hand to develop a joint learning process, in accordance with the French national curriculum. Our pupils alternate between their French and English-speaking teachers.
PRINCIPLES & VALUES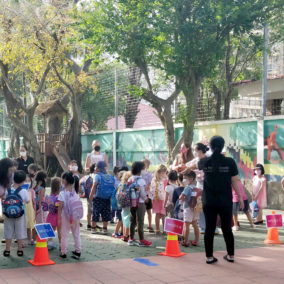 A caring,
innovative school with a child-centered approach that respects the diversity, academic pace and uniqueness of each child.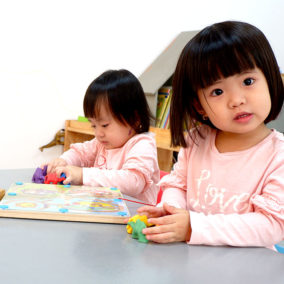 Preschool
is the place – and age – where learning first starts to flourish: each child learns to become autonomous and acquires knowledge and skills by exploring the surrounding environment at their own pace. This initial learning is consolidated in primary school through the fundamental learning cycle.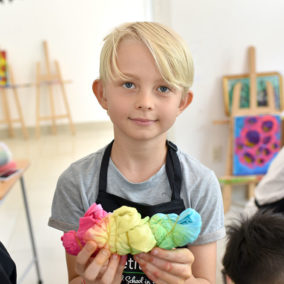 At La Petite Ecole
we understand that early schooling is crucial to the child's overall understanding of the school system in the long term.
Since the period most conducive for language learning is from birth to 8 years old, we are committed to offering bilingual teaching of the French national curriculum, with equal time dedicated to instruction in French and English. Language learning is an integral part of a child's day at school, both in the classroom and as part of daily activities.
The implementation of a free registration system for our various play corners and workshops allows us to better identify the pupils' profiles and to encourage them to take the initiative, while also stimulating their desire to learn. Our instructors' "settings" pique our students' interest and foster their autonomy, such as their engagement and collaboration with other students and teachers.
Set yourself up by adapting your environment to your needs :
Desynchronise learning by offering individual support using technological tools
Explain answers or concepts in different ways, proposing and using various materials to help pupils understand the same idea
Provide self-correction aids to make mistakes seem less daunting
According to research, a student's performance is determined not just by their "objective" skills, but also by their belief in their own potential to learn.
Socialisation
The school experience is about socialisation, understanding oneself and others, and learning to live together. For these reasons, La Petite Ecole promotes exchanges, mutual support, listening to one another, and tutoring, as well as boosting independent thinking and critical thinking abilities. "Copying" is extensively encouraged in our classrooms. Community and civic projects and primary school debates are designed to build the future citizens of tomorrow.
Co-education
We also believe in the importance of continual "co-education," in which the home and the school collaborate, which is why our students' families are completely included into the learning process. This is accomplished through a variety of community activities held at the school, parent seminars, communication tools, and forums, all of which provide a continuous and supplemental education for our students.